Furnaces: Keeping Vancouver Families Warm Every Winter
Furnaces are a type of home heating system that uses forced air to circulate warmth throughout the home. They typically consist of a furnace that burns natural gas, oil, propane, or electricity to heat air which is then circulated through the ductwork by a blower motor. 
Here are the reasons to consider adding a furnace to your Vancouver home: 
Furnaces are known for their quiet operation, making them a good choice if you want to avoid disruptive noises from your home heating system. 
Furnaces help with the healthy exchange of air, making it easier for you and your family to breathe.
Furnaces do not require much space in your home, allowing for installation that doesn't disrupt the aesthetic flow of your house. 
Using air to deliver air prevents the issue of water or liquid leakage prevalent in other heating systems. 
Professional Furnace Installation and Maintenance Company
Keeping Vancouver Residents Warm Since 1989  
With Alfa Services on the job, you're in the driver's seat when it comes to the decisions for your home heating needs. 
The team at Alfa Services is pleased to offer you a full range of furnace services including: 
Furnace installation: The team at Alfa Services has 33 years of experience working with the various brands and models of furnaces available for home use. We are committed to finding the ideal furnace for your home, ensuring you will be satisfied with its performance after installation.
Furnace maintenance: We always recommend regular maintenance appointments for your furnace to ensure optimal functionality. By ensuring your furnace is serviced regularly, your unit will have better longevity and fewer operational mishaps.
Furnace repair: Unfortunately, furnaces do break down on occasion. Alfa Services is here for you! We have a fully equipped team of emergency specialists available to assist you with any of your furnace problems. Day or night, winter, summer, spring, or fall, we are here and ready to take your call!
Furnace service: Alfa Services offers year-round service to all of our clients. Whatever your furnace needs, we're here to help.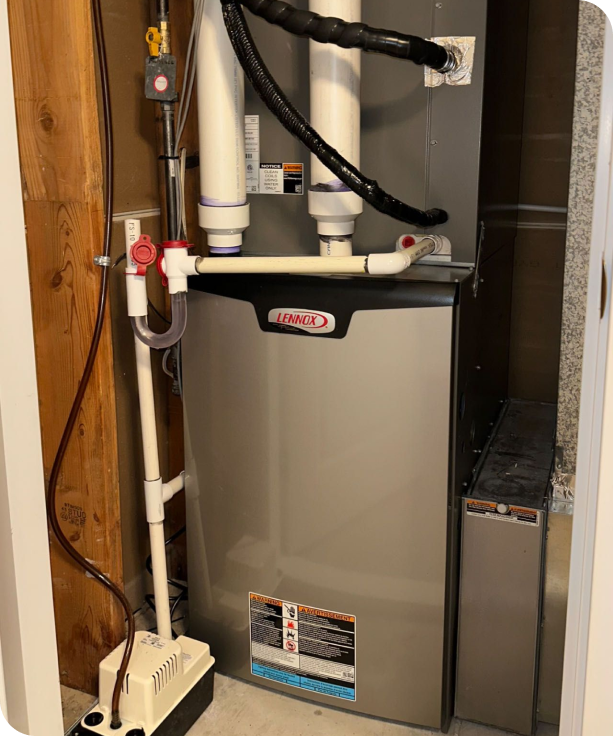 If you encounter a furnace failure in the deep cold of winter, Alfa Services is here to help. One phone call to our office and one of our licensed technicians is on their way to resolve the problem for you! 
Here are some of the most commonly seen problems with furnaces:
If your furnace won't ignite, it may be the result of a failure of several different parts: the exhaust motor, blower motor, or vacuum switch.
The furnace ignites then turns off
Most commonly, furnaces that refuse to remain powered have a clogged air intake. When the air intake is clogged, a leak is created in the heat exchanger. As a result, there is not sufficient oxygen for combustion to occur. 
The room temperature is too low
If the furnace is not generating enough heat, it is likely due to an air filter that needs to be changed. When the filter is dirty, it prevents heat from escaping through it, leaving your house feeling cooler than desired. 
The blower makes a strange sound
When condensation accumulates in the blower because of a blocked pipe, your furnace may begin to make unusual noises. 
If your furnace has metal heating ducts, they will naturally conduct more noise. We recommend installing a duct system that is insulated to help block sound effectively. 
The exhaust vents are blocked
Exhaust vents can easily become blocked by residue from ice and snow. 
The equipment is not size-correctly
If the area heated by the equipment is limited and if the room temperature is consistently low, it may be necessary to replace the equipment with a unit that has a higher BTU. 
Alfa Services has more than three decades of experience serving our valued customers in Vancouver and the surrounding areas. Throughout our years in the industry, our company has earned a reputation of excellence for our top-tier technology, licensed installation, and exceptional service.
Why Work with Alfa Services for Your Home Heating Needs? 
Our company is fully licenced, insured and bonded. We have multi-million liability insurance coverage, and a licence to provide electrical and gas services in BC. 
We offer year-round service.
Unfortunately, equipment breaks down at the most inopportune times. With Alfa Services at work for you, you have access to the help you need any time, regardless of the time, place, or season.  
We offer rapid response times to emergency calls.
When an emergency arises, you need help without delay. Our team of responsive professionals is ready to provide the assistance you need, no matter the time of day. 
We are committed to transparent pricing.
With Alfa Services, the quotes we provide are all-inclusive. You will never have to worry about overinflated bills that contain hidden extras. We are committed to transparency in our pricing.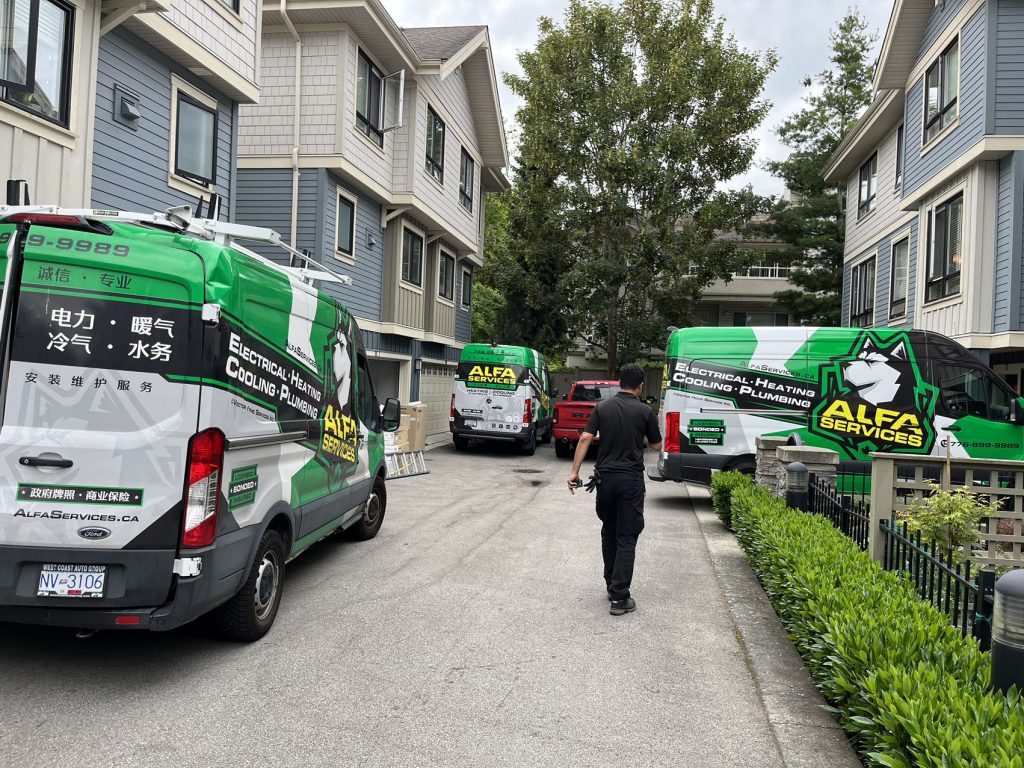 Hello. we Are Alfa Services
At Alfa Services, we take our customers' requests and concerns seriously. Over the past decade, we have built our business into a professional team that is capable of servicing both residential and commercial projects. We can handle emergency situations and highly complex projects. 
Safety First – Safety for both our customers and our staff is paramount for our organization.
Professionalism – Technical skill and organized administration is key to being on-time and on-budget.
Clarity – We develop a deep and thorough understanding of each problem to come up with a proper solution. 
"Frank helped me install and maintain lots of stuff for couple years. He was a trustworthy person who helped me solve a lot of tough problems at a reasonable price. I'm so happy with the service received!"
"Replaced a hot water tank. Service was 100% professional. Corrected mistakes (that I didn't realize existed) made by the previous installer. Would recommend to anyone and would definitely use them again for any future work."
We had a great experience Alfa Services. The furnace installation was very smooth & the cost reasonable. We needed a new hot water tank but Jason & his team suggested we upgrade to a tankless system that would be more energy & cost effective in the long run. The end result was neat & the laundry room has much more space. We also received assistance with applying for the Fortis rebates, which we appreciate a lot. Thank you Alfa Services for everything!
I had a wonderful visit from Frank! He helped me with my electrical issue and was very professional and friendly. He gave me advice on how to avoid the problem next time which I really appreciated! I have found my go to electrician and will be hiring them for more jobs in the future.
I had to convert 6 old fuse boxes to electrical panels. When Frank finished, he did a really professional job replacing my old fuse box with an up to date electrical panel. The price was very reasonable and he left the place very clean after he finished the job. I strongly recommend Frank's services to anyone who needs home electrical repairs.
5 star service! Charles and Frank have been so helpful and professional from beginning to end for the whole project for boiler and heat pump installation. Great products and fast communication! Will continue the business with them for sure for the maintenance. Thanks guys!
I need a new water tank for my house and they gave me a quote and appointment in a reasonable timeframe. The price is fair and the service is good and speedy. So far, my whole experience and the quality of the service is satisfactory. They took only 2 hours to finish the entire job. I would highly recommend anyone who needs new water tank to use their services.
What quick response to my emergency hot water tank leaking in my business location. Highly recommended. Call them and get the job done. I've used Vector for furnace, a/c, heat pumps, electrical service, gas fireplace and tankless hot water. Honest and hardworking people.
Frank's been my helpful partner whenever my clients require some electrical works to be done. He offers professional services with reasonable pricing. Highly recommend him to others who requires electricity works.
Replaced a hot water tank. Service was 100% professional. Corrected mistakes (that I didn't realize existed) made by the previous installer. Would recommend to anyone and would definitely use them again for any future work.